Preview: Memphis The Musical
By Perry Tannenbaum
You can see Huey Calhoun as a scavenger, a conman, and an illiterate hick. Or you can see him as a rock 'n' roll visionary, a natural salesman, and a quirky promotional genius. However you see Huey, in Memphis the Musical at Theatre Charlotte starting this Friday, you will not find him dull. Based loosely on the career of Memphis radio jock Dewey Phillips, the story by Joe DiPetro may remind you of Hairspray, another musical that took us back to the early days of rock and tensions between the races.
Taking us to the innards of radio as well as TV, Memphis gets us closer to the true heart of rock. South of the Mason-Dixon line, there's more bigotry from whites — and more wariness from blacks — when Huey not only promotes African American music on the middle of the AM dial, but also romances a black singer.
Without the comical cross-dressing, cartoonish bigots, and outrageous promotional stunts incorporated into Hairspray, the terrain of Memphis will be more difficult to navigate. So it's exciting to learn that Tony Award winner Corey Mitchell will be directing, Joe McCourt will be starring as Huey, and Dani Burke will be sparking Huey's passions as femme fatale Felicia Farrell.
Burke has been sensational in her two previous mainstage appearances at the Queens Road barn, first with her lead vocal on "Aquarius" in the 2014 production of Hair and again last year singing "Disco Inferno" in Saturday Night Fever. Since his Theatre Charlotte debut as the star of Godspell in 2008, McCourt has shown us astonishing range, from Roger Davis of Rent to the porn-addicted Trekkie Monster of Avenue Q to low-self-esteem finalist Leaf Coneybear in The 25th Annual Putnam County Spelling Bee.
After singing telegrams on land and entertaining on cruise ships at sea, Mitchell came to Charlotte in 2001 by way of Wilmington — and its Opera House Theatre Company — to make his sensational local debut as Hysterium in the Theatre Charlotte production of A Funny Thing Happened to Me on the Way to the Forum. Since then, Mitchell has directed or acted in productions at Theatre Charlotte, Davidson Community Players, CPCC, and Actor's Theatre of Charlotte.
What makes Mitchell such a key part of the Charlotte scene is his teaching and directing in the theatre program at Northwest School of the Arts. And don't think his special Tony Award for Theatre Education was a bolt out of the blue. Aside from a CL Theatre Award, Mitchell has snagged honors from the Metrolina Theatre Association, the North Carolina Theatre Conference, the Educational Theatre Association, the International Thespian Festival, and National Youth Theatre. Productions directed by Mitchell have garnered at least a dozen Blumey Awards — with seven more nominations still in play for the 2017 ceremonies at Belk Theater on May 21.
You could say he's connected in the community. It would have been hard for anybody who has performed extensively in Charlotte to catch Mitchell off-guard at auditions when he cast Memphis. He has worked with Burke before in Davidson and is quite familiar McCourt's work. Tyler Smith, who plays Felicia's protective brother Delray, is coming off a powerful performance as Coalhouse Walker, fueling CP's production of Ragtime.
"The three of them bring so much presence and power to the stage," Mitchell says. "Joe's work is incredible. The biggest challenge has been just the herculean task Joe has to take on each evening. Huey is in every single scene in this show."
Surprisingly, Mitchell doesn't take the view that Memphis is about race, mixed couples, or even the title city.
"I decided to treat the relationship between Huey and Felicia on the micro level of how this man loves this woman," Mitchell explains. "While Huey has an absolute obsession with black music, he certainly doesn't fetishize black women in general. He is specifically in love with this woman — and despite her best efforts not to be, Felicia is love with this man. She is, however, a realist."
Huey was an eccentric goofball when Chad Kimball played him in the original Broadway production, slinking back and forth across the stage, seemingly unable to take two consecutive steps in the same direction. He wasn't Gomer Pyle, but Huey was very Southern, perhaps in a way that New Yorkers could look down on from afar.
"Trying to portray his unique persona was challenging," McCourt admits. "We decided to tame the over-exaggerated drawl of Chad Kimball's original Broadway take so that he doesn't appear too cartoonish but still hold on to his kooky side. It has been hard finding a balance between too much and not enough [drawl] while trying hard not to insult the Southern accent itself!"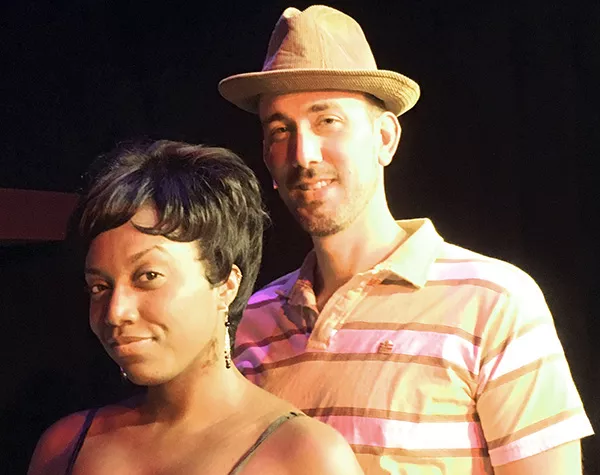 A new worry materializes when you make the illiterate Huey smarter and more cunning in Charlotte than he was on Broadway. Hopefully, the micro lens that Mitchell wants to apply to Huey and Felicia is helping McCourt to skirt the impression that he is slyly exploiting her commercial potential.
"Huey is a born salesman and smart for being uneducated," says McCourt. "I don't see him as a con artist nor cunning. He's naive to a fault, a free spirit that knows what he wants. Music moved him; so it was no surprise that he fell for Felicia, who not only inspired him musically but also opened his heart to new possibilities. He simply lacked the emotional intelligence and social skills to handle those feelings. I'm walking a fine line trying to make sure he doesn't come across the wrong way."
And Mitchell, for all his accolades, is giving McCourt free rein. They're definitely on the same page when it comes to portraying Southerners.
"I want to strike a balance with him — and the rest of the cast, for that matter — to be Southern without being a caricature," Mitchell says. "Too often, I see Southern people portrayed onstage as rubes. Joe is an impeccable actor and a professional in the best sense of the word. I try to give him room to play and explore and then nuance in those areas that seem to need a little tweaking."
Ultimately, the issue that drives a wedge between Huey and Felicia isn't race or prejudice. It's an issue that our most gifted theatre artists constantly wrestle with: should I build on what I've done here in my hometown, or should I set out for a bigger market in the hopes of greater opportunities and nationwide renown? McCourt senses that Memphis brings Huey a feeling of comfort and security, that he also fears the unknown.
He can identify with the dilemma.
"For me personally," he says, "I took that leap and moved from a small town south of Buffalo and headed to NYC many years ago for the possibility of making it 'big.' Although young and bold, looking back, I was also afraid of failure, which held me back from pursuing many things there. I'm at a different stage in my life now. So building upon what I've done here in Charlotte has been very fulfilling. A realtor by day, a performer by night, and a father and husband in between!"
Mitchell is far from cooped-up in Charlotte since his Tony triumph. He has delivered keynote addresses at theatre conferences across the Southeast and traveled to Dubai as a Varkey Teacher Ambassador. Purple Dreams, a documentary about Mitchell's 2013 production of The Color Purple at Northwest, was released on April 7 to considerable publicity and acclaim.
So it's likely we'll be seeing more from both Mitchell and McCourt in Charlotte for years to come. Their best work may still lie ahead.